Introduction – Travel Guide to Kumbh Mela
The Kumbh Mela is not just a spiritual gathering; it's an experience, an immersion into India's deep-rooted traditions and beliefs. Whether you're a seasoned traveller or embarking on your first pilgrimage, this guide, powered by Mahakumbh.in, will ensure you navigate the vastness of Kumbh Mela with ease and insight.
1. Beginning Your Journey: International Travel to Kumbh Mela
From the US and Canada:
Direct flights are often available to major Indian cities like Delhi and Mumbai.
Use Mahakumbh.in to streamline your travel: Book connecting flights to Prayagraj Airport, the closest aerial gateway to Kumbh Mela. Their platform offers efficient layovers, ensuring minimal wait times.
From the UK:
Depart from major cities such as London, Manchester, or Birmingham.
With Mahakumbh.in, transit smoothly through Delhi or Mumbai, ensuring a swift arrival at Prayagraj.
From Australia:
Routes might involve transiting through Southeast Asian hubs like Singapore or Bangkok.
Mahakumbh.in aligns your tickets and connections, making the journey hassle-free. Opt for connecting flights via Indian metros to Prayagraj.
From Europe:
European cities, including Paris, Berlin, Madrid, and Rome, have frequent flights to major Indian metropolises.
Utilize Mahakumbh.in to coordinate your transit through these cities, ensuring a well-organized continuation to Prayagraj.
2. Domestic Travel within India to Kumbh Mela
For those already in India or travelling from other parts of the country:
Major cities have regular train services to Prayagraj. Trains can be a unique experience, offering a window into the Indian countryside.
Buses are available from neighbouring states and cities. Check schedules on state-run websites or use Mahakumbh.in for reliable booking options.
3. Navigating Kumbh Mela
Public Transportation: Within the Kumbh Mela, public buses and rickshaws are readily available. For convenience, look for "Mahakumbh.in"-branded assistance points spread across the gathering.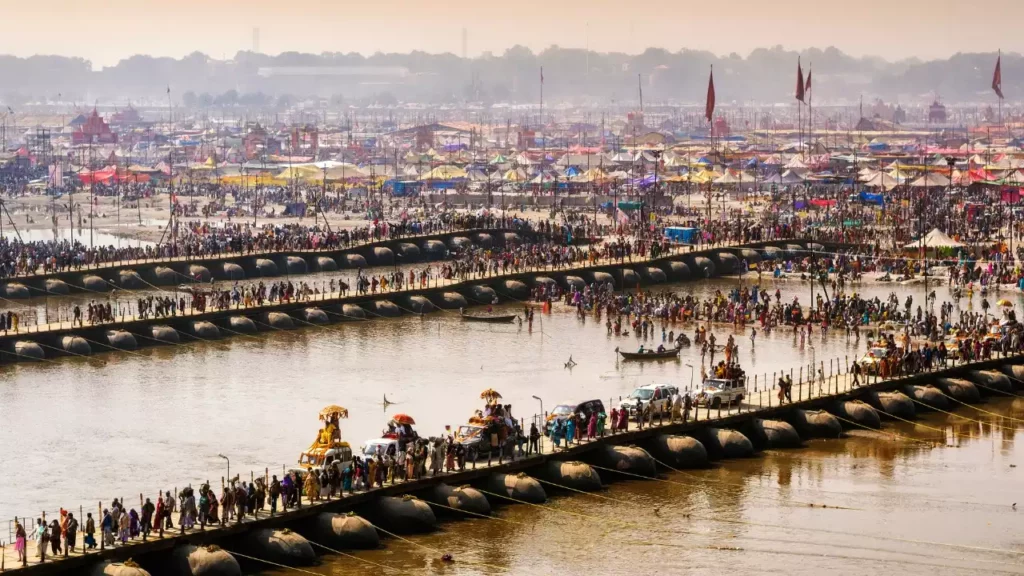 Walking: Due to the vastness of the area, some locations are best accessed on foot. Make sure to wear comfortable shoes and stay hydrated.
4. Essential Tips for the Kumbh Journey
Stay Updated: Mahakumbh.in is not just a booking platform. Use their mobile app for real-time updates, event information, and ritual timings.
Local Assistance: Their on-ground information booths and customer support are invaluable for on-the-spot queries.
Stay Hydrated and Nourished: Given the scale and crowd of the event, it's essential to drink purified water and consume freshly cooked food.
Respect Local Traditions: Dress modestly, follow the rituals, and always ask before taking photographs, especially of ascetics or religious ceremonies.
5. Accommodation
Finding the right place to stay is pivotal to experiencing the essence of Kumbh Mela. From the austere ashrams echoing spiritual teachings to the plush comfort of luxury tents, your choice of accommodation sets the backdrop for your Kumbh journey.
With the vast expanse of the Mela and countless options available, Mahakumbh.in becomes your beacon, guiding you to a stay that resonates with your preferences. Here's a deep dive into the accommodation options:
1. Luxury Tents:
Experience: Ideal for those seeking a blend of spirituality and comfort. Imagine waking up to the serene sounds of the river and chants, all from the cocooning luxury of your tent.
Facilities: These tents often come with attached bathrooms, comfortable bedding, and sometimes even air conditioning.
Booking: Mahakumbh.in offers a curated list of luxury tents, detailing amenities and guest reviews, aiding in an informed choice.
2. Budget Hotels:
Experience: For travellers mindful of expenses but unwilling to compromise on basic comforts, budget hotels offer a happy middle-ground.
Facilities: Functional rooms, often with attached bathrooms, Wi-Fi, and in-house dining options.
Booking: Navigate through Mahakumbh.in to find budget hotels with good ratings, ensuring you get value for your money.
3. Ashrams:
Experience: Dive deep into spirituality. Staying in an ashram offers a chance to experience the Kumbh the way ascetics and devout pilgrims do.
Facilities: Rooms are usually basic, emphasizing simplicity and asceticism. Many ashrams offer communal meals, infused with the flavours of devotion and tradition.
Booking: Ashrams tend to fill up quickly given their authentic experience. Check Mahakumbh.in for available options and book well in advance.
4. Home Stays:
Experience: If you're looking to experience Kumbh Mela through the eyes of a local, homestays are perfect. Immerse yourself in the culture, stories, and warmth of your hosts.
Facilities: A room in a local's home, with a chance to savour homemade meals. Amenities vary, but the experience is truly enriching.
Booking: Mahakumbh.in has a list of vetted homestays, ensuring safety and a genuine experience.
5. Eco-Friendly Options:
Experience: Contribute to a sustainable and green Kumbh Mela. These accommodations prioritize the environment without compromising on comfort.
Facilities: Use sustainable materials, solar power, water conservation methods, and more. Often, meals are organic and sourced locally.
Booking: Mahakumbh.in highlights eco-friendly accommodations, allowing travelers to make an environmentally-conscious choice.
6. Safety and Hygiene:
With the current global health scenario, safety and hygiene are paramount. Each listing on Mahakumbh.in is scrutinized for cleanliness, sanitation, and adherence to safety norms. They ensure accommodations offer a worry-free environment, letting you focus solely on your spiritual journey.
7. Trusted Reviews and Support:
One of Mahakumbh.in's standout features is its community of travellers. Authentic reviews offer insights into real experiences, helping future pilgrims make an informed choice.
Additionally, their robust support system ensures any queries or issues regarding accommodations are addressed promptly.
6. Departure
After immersing yourself in the Kumbh Mela experience, consider exploring Prayagraj's rich history and culture. And when it's time to leave, turn to Mahakumbh.in for your return trip bookings, ensuring a seamless end to your journey.
Closing Thoughts
The Kumbh Mela is a testament to the spiritual vitality of India. As you embark on this once-in-a-lifetime journey, let Mahakumbh.in be your guiding light, providing you with the insights and support needed for an enriching experience. Safe travels, and may your time at the Kumbh Mela be spiritually rejuvenating!