Introduction – Kumbh Mela Preparation Guide
The Kumbh Mela stands as one of the most significant and awe-inspiring gatherings in the world. For many, attending this spiritual event is a dream, an opportunity to immerse oneself in faith, and to connect with a community that shares the same spiritual beliefs.
If you're planning to be among the millions making the pilgrimage, adequate preparation is crucial to ensure a smooth, enriching experience. Here's your comprehensive guide to preparing for the Kumbh Mela.
1. Packing the Essentials – Kumbh Mela Preparation Guide
Start with the absolute basics. Always ensure that your Personal Identification is secure. This includes a government-issued ID and a photocopy of your passport. These documents should be easily accessible, yet secure in a waterproof pouch. Given the size and significance of the event, having identification on hand at all times can be a lifesaver in unexpected situations.
2. Prioritize Your Health and Safety
Your health and safety should be of paramount importance. Packing a First Aid Kit can be a game-changer. This should contain the basics such as band-aids, antiseptic wipes, and pain relievers. Additionally, remember to pack any personal medications you might need, keeping them in their original bottles with clear labels.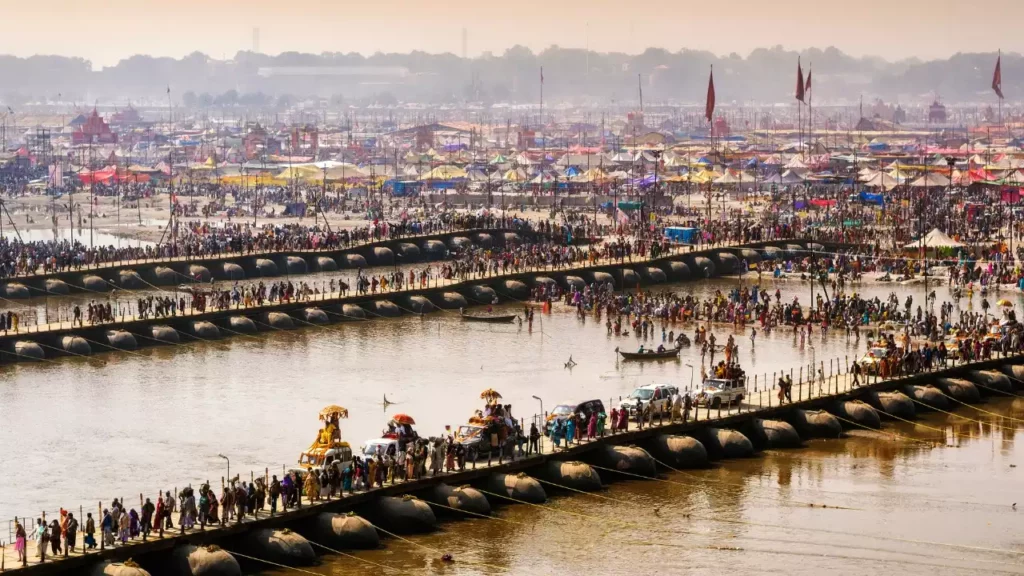 3. Stay Connected
Communication is key, especially in an event as large as Kumbh Mela. It's recommended to get a temporary local SIM card to ensure you're always reachable and can contact others when needed. And in this digital age, having a power bank can be invaluable. With the sheer amount of photo and video opportunities, plus the need to stay connected, you'll be thankful for the backup charge.
4. Dress Appropriately and Comfortably
When it comes to clothing, it's a balance of respect and comfort. Lightweight, breathable clothes are a must, given the potentially warm and crowded conditions. However, always ensure you're dressed modestly, keeping in line with local customs. A combination of traditional wear for religious ceremonies and comfortable wear for general wandering is ideal.
5. Prepare for the Crowds
The Kumbh Mela attracts people from all over, making certain areas incredibly crowded. Packing earplugs can offer some respite from the constant noise, ensuring you can find moments of peace even in the midst of chaos. Furthermore, with the current health scenario worldwide, wearing masks in dense crowded areas is a wise precaution.
6. Don't Forget Your Spiritual Essentials
For many, Kumbh Mela is a deeply spiritual journey. If you have personal prayer items, such as beads, small deity idols, or scriptures, ensure they're packed safely. Such items not only support your spiritual practices during the Mela but also serve as cherished mementoes.
7. Miscellaneous Yet Crucial
There are always a few items that don't fit neatly into a category but are indispensable. Sunscreen will protect you from potential sunburns. Insect repellent can keep bothersome bugs at bay. A reusable water bottle ensures you stay hydrated, and a small flashlight can prove invaluable during nighttime wanderings or in dimly lit areas.
The Kumbh Mela Checklist:
Government-issued ID
Photocopy of passport
Waterproof pouch for essential documents
Band-aids
Antiseptic wipes
Pain relievers
Personal medications
Temporary local SIM card
Power bank for device charging
Traditional attire
Comfortable clothing
Earplugs
Masks
Personal prayer items (e.g., beads, small deity idols, scriptures)
Sunscreen
Insect repellent
Reusable water bottle
Small flashlight
Collapsible walking stick (for ease in walking and navigation)
Hand sanitiser
Wet wipes
Compact umbrella or rain poncho (in case of unexpected rain)
Snacks (energy bars, dried fruits, etc.)
Foldable backpack (for day trips)
Lightweight blanket or shawl (for colder evenings or mornings)
Extra batteries for any electronic devices
Travel journal and pen (to document experiences)
Small cloth bag for shoes (when entering sacred spaces)
Lightweight towel
A digital camera or smartphone with a good camera
Money belt or hidden pouch (for added security)
Small lock (for securing belongings in tents or lodges)
Guidebook or printouts about Kumbh Mela
Address and contact details of your accommodation
Contact details of local authorities or embassy (for international travellers)
Multi-plug adapter (if carrying electronic devices)
Personal toiletries (e.g., toothbrush, soap, etc.)
Cash in small denominations (for small purchases or donations)
Plastic zip-lock bags (for waterproofing items)
Tissues and toilet paper rolls (some places might not have them)
Lightweight footwear suitable for walking long distances
In Conclusion
The Kumbh Mela is an event of grandeur, spirituality, and community. Proper preparation doesn't just ensure your comfort, but it also ensures that you can fully immerse yourself in the spiritual and cultural richness the event offers. As you finalize your plans and zip up your suitcase, take a moment to breathe in the anticipation and excitement. Safe travels, and may your Kumbh Mela experience be all that you've dreamed of and more